General News
[ 2012-06-12 ]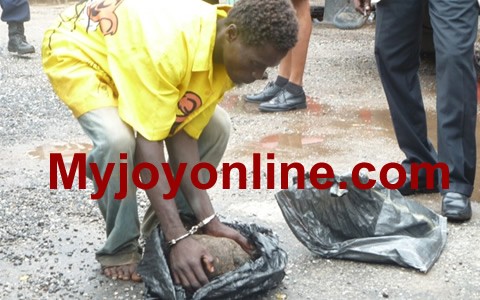 Kweku Mensah, the alleged murderer with the decomposed head of the deceased.
Ekumfi 'killers' to be arraigned before court
The Central Regional Police Commander DCOP Stephen
Andoh Kwofie says the two suspects arrested in
connection with the murder of the head of the
Nsona clan will soon be arraigned before court.

Kweku Mensah and his sister Aba Kwaba were
arrested last Sunday for the alleged murder of the
late Nsona clan head, Nana Kojo Eguasia.

The headless body of the late elder was found at
his coconut farm.

His murder sparked inter-ethnic clashes between
the Fantes and the Ewes at Ekumfi last week.

Kweku Mensah admitted beheading the late Nana
Kojo Eguasia upon interrogation by the Police. He
also assisted the Police to retrieve the
decomposed head of the deceased.

DCOP Andoh Kwofie speaking to XYZ News said the
arrest of the two suspects must dissuade others
from committing such heinous crimes.

He also warned people against taking the law into
their own hands when an incident happens.

Meanwhile, the Assembly member for Ekumfi
Naakwaa, Emmanuel Hope, has welcomed the arrest of
the two suspects saying it will lead to the
retrieval of vital information that will help the
Police in their investigations.
Source - RadioXYZonline.com


---