General News
[ 2012-06-11 ]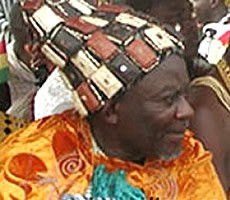 Togbega Gabusu, paramount chief of Gbi
Riots at Hohoe; Togbega Gabusu's car set ablaze; palace vandalised
Muslim youth at Hohoe have set ablaze a vehicle
belonging to the paramount chief of the Gbi
Traditional Area, Togbega Gabusu.

The entire palace has been vandalised by the
rampaging youth who are angry at the exhumation of
their Imam.

The whereabouts of the chief is unknown but
reports say the situation requires security
reinforcement.

Lolonyo FM's Isaac Kwesi Minta told Joy FM's Super
Morning Show the police were helpless as they were
overwhelmed by the sheer numbers of the angry
youth.

Isaac said he personally saw the body of the Imam
dumped on the road.

He said the angry youth said they were going to
bury the Imam again and promised to burn down the
entire Hohoe if the grave was tampered with
again.

Tension had been mounting between the Muslim
Community and the Gbi Traditional Council of Hohoe
over the exhumation of the chief Imam who was
buried yesterday.

The Muslims accused the paramount chief of the
area, Togbega Gabusu of exhuming their Imam,
Alhassan Sanni.

The Zongo chief at Hohoe, Alhaji Tajudin Meriga
told Myjoyonline.com that the body of the Imam had
been dumped on Jasikan road.

He said the suspicion that Togbega Gabusu may have
ordered the that the body of the Imam be exhumed
was well grounded.

He explained that prior to the burial of the Imam
Sunday, he received a letter from the chief saying
that some people from the Zongo community had
engaged in a riotous behaviour when a member of
the community was electrocuted.

Alhaji Meriga said the letter ordered the body of
the boy who died from the electrocution should be
exhumed.

The letter further stated that thenceforth, the
Muslims were prohibited from burying their dead on
the soil of Hohoe.

Having received this letter, Alhaji Meriga said he
immediately called the chief to plead for clemency
but Togbega Gabusu stood his grounds.

"So I went to see my elders who led me to Togbega
Gabusu to go and plead but he refused," the Zono
chief stated.

He claimed officials of the Bureau of National
Investigations (BNI) got involved and eventually
the Muslims were allowed to bury their Imam.

He said he however woke up to word Monday morning
that the body of Imam Alhassan Saani had been
exhumed and dumped on the road.

Not only that, he said the body of the
electrocuted boy had also been exhumed but it was
unclear where that body had been deposited.










Source - MyjoyOnline


---