General News
[ 2012-04-30 ]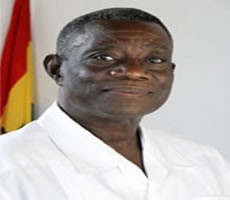 President John Mills
Mills joins Christians to pray for peace in December elections
President John Evans Atta Mills has reiterated his
commitment to peace before, during and after this
year's elections.

He made the call when he joined hundreds of
Christians to worship at the Accra Sports stadium
at a crusade dubbed the "Ghana Jesus Festival"
organized by the Billy Graham Evangelistic
Association.

The President had just arrived from the United
States on an official visit when he decided to
join the crusade.

Director of Communications at the castle Koku
Anyidoho says the President is mindful of God's
role in ensuring a peaceful country.

"The president has always made it public and is
preparedness to allow God be in control in an
election and he continues to make sure that God
plays a central role in whatever we are doing as a
nation," he said.







Source - MyjoyOnline


---
Subject: RE: WOYOME GHC52M FRAUD: PETITION COMPELS PROSECUT Author: Obeng Rago (93.186.22.244) Date: 04-29-2012 09:32 I have to sign this important petition due to the following reasons: 1. That this NDC Govt has paid 6300000000000.00 Cedis as judgment debts, 510000000000 is with Woyome, thanks to the perseverance of Ken Agyapong, who will pay for it by being sent to ICC by NDC hoodlums in Government, for revealing to Ghanaians the source of fraudulent state monies used to build NDC headquarters at Adabraka!!!!! Yet, these are the same politicians who dealt with criminal cases in their kangaroo courts called Public Tribunals in record time and jailed many! 2. Woyome is sued by the State in High and Fast Track Court by Amidu, who was sacked for doing so and replaced by a slow coach Attorney General kumbuor, who has no prosecutors to do the case with some arrested and others appointed as ministers nor is he willing to expose his party furthermore...... 3. Deputy Attorney General Barton Oduro of Swedru claims it is a bad case; His Superior, Martin Amidu says it's rather a gargantuan crime. All under the Supervision of President Atta Mills, Professor of Law! And the Chief Justice can not bother to streamline the case for fear of reprisals by P/NDC loud mouthed goons. 4. Former Attorney General Bet Mouldy Iddrissu has refused to talk to PAC because her lawyer Nana Ato Dadzie says so; and only went for a chat with Police and EOCO in the company of her husband Iddrissu Mahama, of PNDC fame and still a Member of Council of State and a friend of Kojo Murderer Tsikata, the present chief of National Security and an accomplice of Woyome, the thief! 5. The WOYOME case is investigated by EOCO and Police CID: The case is arraigned before Circuit High and Appeal Court by both protagonists and antagonists; One same case is being investigated whiles its on Court Trial; An Investigation Committee has submitted its report but carrying on investigating NPP Politicians who were not in power when the 'bofun' was being paid.... 6. David Annan is in Court for contempt against critics of the thief whiles Volta Chiefs are free to praise the same thief. And so like the case of Asiedu Nketia's Bui Dam Block making fraud, no one can talk about it because they are in PNDC Govt! 7 How many Judges, Attorney Generals, Lawyers, Prosecutors, Investigators, Politicians and Journalists are involved in this Woyomegate? Judge Tank, Ackah Yensu, Charles Quist, Amidu, Oduro duro, Kumbuor, Ato Dadzie Senanu, Segbefia, Kpegah, Ato Dadzie, OB Amoah, Osaafo Maafo, Mouldy Iddrissu, the worst lawyer in Ghana David Annan, kumbuor, Rex Wiredu, Gyambiby - all in a case of a Financier of NDC, whose mantra of Probity and Accountability is sewn into the blood veins of their Party Founder! 8. What about the rest of the judgment Debts? Cecilia Johnson, Tarriconi, CP or Carl Ploetner, Kwame Pianim, Akwamu NDC MP, Mrs Naadu Mills and the unknown foot soldier. If the govt cannot deal with one case, how can they deal with Cecilia Johnson's? 9. One WOYOME case. Rawlings is talking about it; President Atta Mills is only interested in how the debts were incurred; Kuffuor wonders how a broke country can dole out so much money to one man and his dog; as for Nana Akuffo Addo he asks - "Na Sika no wo hen? A Methodist Bishop wants the money back....Only P/NDC politicians and Volta Chiefs support Woyome: But Horace Ankrah is quiet about it! 10. This one easy case has turned into a circus freak show and heading for the White House by the kind act of Lady Akosua! Party of Noise Disturbance Confusion (P/NDC) is finally exposed for what they really are: Thieves and Murderers.
Obeng Rago, UK 2012-05-01 (06:55:44)
Add YOUR View here