General News
[ 2012-04-30 ]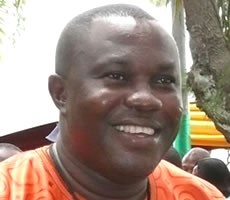 Samuel Ofosu Ampofo
We met a dirtier Ghana than we have today- Ofosu Ampofo
Local Government Minister, Samuel Ofosu Ampofo is
convinced the Mills administration is well on
track in delivering its promise of an improved
sanitation across the country.

He told Joy News' Seth Kwame Boateng Ghana is a
lot cleaner than the Mills administration met it
in 2009.

He was quick to add though, that the
administration still has a lot to do in ridding
the country of the filth.

The Minister was reacting to a recent World Bank
report which said at least GHS420 million is lost
annually as a result of poor sanitation in the
country.

According to him, the government through public
and private partnerships has led to the
distribution of some 700 trucks by Zoomlion to the
various MMDAs to help the fight against poor
sanitation.

He said a landfill site at Kpone would be ready in
June and would in no small way facilitate the
disposal of waste materials by residents living in
the area.

The Minister was also buoyed by the fact that the
disgusting spectacle of discharging liquid waste
into the sea in Sekondi in the Western Region is
now a thing of the past.

He conceded however, that the Odaw River in Accra
remains a blot on the sanitation record of the
country and was hopeful that with the support of
the World Bank, the Accra Metropolitan Assembly
will be able to dredge the river.

Mr. Ofosu Ampofo called for attitude change among
Ghanaians to bring a lasting solution to the
perennial problem of poor sanitation.

"We are not yet there now, but we have made a fair
progress because when you go to the assemblies,
they have been empowered; we have given them
logistics. It's a gradual process.

"We came and met a dirtier Ghana than we have
today and I am very confident that we have not
been able to achieve the utmost but what the
situation is like, today is better than what we
came to meet," the minister said.
Source - MyjoyOnline


---