General News
[ 2012-04-25 ]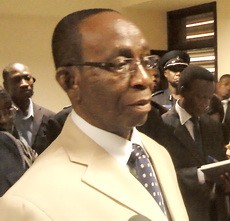 Interior Minister W.K Aboa
Gov't plans massive revamping of police resources - Interior Minister
Government has resolved to equip the police
administration with the necessary resources to
enable it deal with unforeseen incidences that may
erupt during the upcoming December polls, says
Interior Minister W.K Aboah.

According to him, cabinet and parliament have
approved a €50 million French credit facility to
supply the service with needed logistics. These,
he said, will include 1,110 pick-ups and saloon
cars, 100 heavy duty motorbikes, 1,000 walkie
talkies, two cabin patrol cutters, four high speed
interceptor boats as well as several ballistic
vests, protection helmets, bullet-proof vests and
ballistic plates.

In addition, the minister said 500 police
personnel will undergo a 16-week extensive
training in courses related to marine law
enforcement to maintain a fully trained maritime
personnel at various positions along Ghana's
coastlines "to assist in protecting our shores and
oil industry."
He also assured that problems encountered in
connection with the Police Hospital Development
Project have been resolved and that work will soon
begin at the site.

The minister challenged the police administration
to clear accident vehicles from their premises
within two months "to beautify the frontage of our
police stations" and also urged them to intensify
night patrols to halt the activities of armed
robbers.

He asked the police not to allow criticisms from
society divert their attention from their core
duties and desist from fraternizing with political
parties.

"Fellow officers, remember the oath you have taken
to serve the government of Ghana with all your
heart and strength. Stay united, close your ranks
to work as a team and not to fall a victim of
suspicion of being a pale supporter of a political
party…".

The minister stated that the ministry is committed
to supporting the police to raise their image to
internationally accepted standards.





Source - MyjoyOnline


---