General News
[ 2012-04-25 ]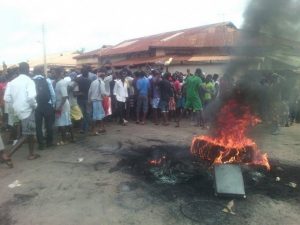 Johnson Asiedu Nketiah is General Secretary of the NDC
NDC: NPP looking for triggers to unleash terrors
The National Democratic Congress (NDC) is calling
on the security agencies to invite both victims
and suspected culprits in the recent Odododiodio
clashes to determine the truth in the claims of
violence against NPP members.

According to the party, the NPP by precedence are
used to playing victim when indeed they are the
perpetrators of crimes.

The General Secretary of the NDC, Johnson Asiedu
Nketia, who addressed a press conference in Accra
on Wednesday, noted that the NPP elements ought to
be checked because they want to use the on-going
biometric voters' registration exercise as a
trigger to unleash mayhem.

"NPP is looking for triggers during the biometric
registration to unleash terrors on innocent
citizens of this country and doing so with the
active connivance of media houses," he said.

Mr. Nketia added: "When Ms. Ursula Owusu claimed
she came under attack by irate youth at
Odododiodio, her first point of call was a radio
station instead of a police station, seeking to
incite reprisal attacks and blaming the police for
doing nothing."

"Again, when Ursula was speaking to the press
after the so-called attack, she was not bleeding
from any part of her head or body, neither were
there any visible marks on her body. Who does she
think she is deceiving when the following day she
bandages her head, took pictures and posted them
on the internet and in the media," Mr. Nketia
pointed out.

"Because of this conduct of Miss Ursula Owusu, we
in the NDC demand that the security invite for
questioning, all the persons whose pictures
appeared both as victims and attackers, wielding
offensive weapons on the front page of the Daily
Guide the day after the incident. We're very
confident that by establishing the true identity
of these people the nation would be able to
unravel what actually took place at Odododiodio on
that faithful day."

Mr. Nketia also took a swipe at the NPP and some
religious leaders over what he terms their
double-standards in handling the Kennedy Agyapong
issue.


Source - Citifmonline


---