General News
[ 2012-04-23 ]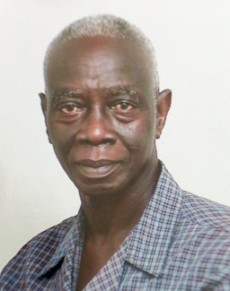 Dr. Kwadwo Afari-Gyan, Chairman of the Electoral Commission
Afari-Gyan warns, biometric equipment can break down on election day
The Chairman of the Electoral Commission, Dr
Kwadwo Afari-Gyan has described the ongoing
biometric registration exercise as very successful
irrespective of the technical hitches which have
bedeviled the process in some parts of the
country.

According to the EC Chairman, just like any other
technology, the breaking down of some registration
equipment was largely unpredictable.

He was speaking on Peace FM's Kokrokoo on Monday.

The biometric registration has been introduced to
replace the existing photo I/D and to curb double
registration as well as help eliminate ghost names
in the voter's register.

Dr. Afari-Gyan added that despite all the numerous
technical hitches, the EC has been very proactive
in remedying these hitches, adding that the
back-up equipment has been useful as well as
technicians stationed at the various registration
centers.

The EC Chairman expressed grave concern about the
pockets of misunderstanding recorded at some
registration centers and bemoaned the use of
machomen to disrupt the registration process which
he described as a draw back on the process.

Dr. Afari-Gyan, who has superintended five general
elections in Ghana's fourth republic, described as
unfortunate the lack of patience among the
electorate who rushed to register at polling
stations which were not their traditional polling
stations. This he said, has led to low turn-out
being recorded at some polling stations.

The EC Chairman also revealed that equipment being
used in the ongoing registration will not be the
same to be used in the December 7 polls.

He added that different equipment will be used,
and that just like the equipment used in the
biometric registration exercise, the ones to be
used on December 7 can also break down.

Dr. Afari-Gyan added that there is a need for a
consensus among all key stakeholders as to what
action to be taken in the event of any equipment
breaking down on the election day.

The exercise which commenced on March 24, is
scheduled to end on May 5. Eight million persons
have registered as at the end of the second phase
against a projected 6.5 million by the EC.

The third phase of the exercise will end on April
24, whereas the last phase will span from April 26
to May 5.

The EC has maintained that it will not extend the
exercise and that it will only consider any
extension after a holistic analysis of the entire
exercise.





Source - MyjoyOnline


---