Business
[ 2012-03-22 ]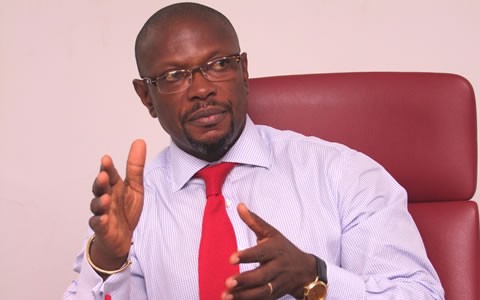 Kwaku Sakyi-Addo
Kwaku Sakyi-Addo: Telecos committed to delivering world-class services
Tell us about Ghana Telecoms Chamber

The Chamber is a private initiative by the mobile
telecom operators. Its an industry forum; it seeks
to influence telecoms policy, legislation and
regulation. As players in the industry, the input
of operators in evolving a policy framework, and
working hand in hand with other stakeholders to
shepherd the industry towards growth and for the
development of Ghana is fundamental.

What necessitated the need to setup this Chamber?

Well, individual operators discovered that despite
being competitors, there were issues that were
common to them. There was a dawning that these
problems were best tackled if they pooled energies
and resources rather than if they divided and
dissipated them.

How is your operations funded

Funding comes from subscriptions paid by members.

What level of support do you envisage from NCA and
Ministry of Communication?

We have a healthy working relationship with the
NCA and the Ministry of Communications. Of course,
in that relationship we have disagreements
sometimes, but that shouldn't come as a surprise.
This is natural between players and referees.

What should be subscriber's expectations of your
Chamber?

Our members have a commitment to delivering
world-class services in partnership with the
regulator and policy-makers. You see, access and
quality are also a function of the environment.
Therefore with the right environment — and we
believe that there's enough goodwill among our
partners for that to evolve — subscribers can
expect world class telecoms services. Our vision
as a Chamber is to be the voice of the most
respected industry in Ghana.

Do you see the operators having common goals on
issues despite the competition that abound in the
sector?

The Chamber is founded on the basis of
co-opetition, ie. Co-operation and competiton;
that is co-operation among members on matters of
common interest, without sacrificing competition.

What is your view on Sim card registration and
number portability?

We believe number portability was well-executed.
Subscribers can now port without losing their
number, and without much hassle.

Sim registration has been successful in one sense:
that nearly every sim card was registered. The key
problem has been validation of ID documents. This
is, primarily, due to the absence of a national
identification platform and an efficient system of
ID verification. Even so, mobile operators
committed substantial resources — something in the
region of GhC20 million (US$15m) for sim
registration because our members were and are
committed to support the regulator and the
government towards achieving the set objectives.

What are your expectations for this year?

We want to address power tariffs; it's killing
operators. We need to drastically reduce the
incidence of cable cuts and thefts; it hurts
access to networks and the reputation of our
members. We must rationalize levies and fees
charged by local authorities on mobile
infrastructure. Last year, we introduced the
Chamber and started building bridges to
stakeholders. This year, we will go across the
bridge and engage with all who have a piece of the
puzzle in order to put together an even better
picture of the telecoms industry in Ghana.
Source - Mobile World


---