Business
[ 2012-03-07 ]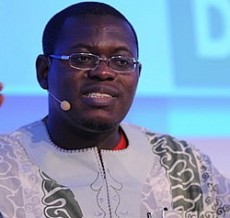 Bright Simmons of IMANI Ghana
Three Ghanaians win global award
Three accomplished young Ghanaians, Messrs Kimathi
Kuenyehia, Sr., Bright Simmons and Fred Swaniker,
were today named Young Global Leaders (YGLs) by
the World Economic Forum (WEF) for their
extraordinary achievements in various fields below
the age of 40.

The prestigious honour is bestowed each year by
the Switzerland-based economic think on some of
the most extraordinary leaders in various fields
below the age of 40 from around the world in
recognition of their "professional
accomplishments, commitment to society and
potential to contribute to shaping the future of
the world through inspiring leadership".

This year, the forum selected 190 Young Global
Leaders from over 70 countries who are all
stakeholders of society in areas such as business,
civil society, social entrepreneurs, politics and
government, arts and culture, opinion and media.

The three Ghanaians are part of the 18 young
leaders selected from sub-Saharan Africa. They
were chosen by a selection committee, chaired by
Her Majesty Queen Rania Al Abdullah of Jordan, out
of a pool of more than 5,000 nominations.

"The 2012 honourees will become part of the
broader Forum of Young Global Leaders that
currently comprise over 700 outstanding
individuals from over 100 countries. The YGLs
convene at biannual summits, as well as forum
events and meetings throughout the year, and
collaborate on initiatives to tackle some of the
key challenges of our generation," the WEF said in
a release.

This year, the summit will be in Mexico from April
14-17, 2012.

Previous honourees include former English Prime
Minister, Tony Blair; Microsoft founder, Bill
Gates; Google co-founders, Sergey Brin and Larry
Page, Nigerian activist and writer, Ken Saro-Wiwa
Jr; Facebook founder Mark Zuckaberg; golfer Tiger
Woods and fashion designer, Oswald Boateng, a
Elikem Nutifafa Kuenyehia of Oxford and Beaumont.


Mr Kuenyehia, Sr. is a Harvard-educated corporate
lawyer who specialises in negotiating and advising
on complex transactions. He is practices as a
Solicitor and Barrister in Ghana and an Attorney
and Counselor in New York, USA.

He is the Managing Partner at Kimathi & Partners,
one of the leading corporate law firms in Ghana
and has consistently been ranked as one of Ghana's
top corporate lawyers by independent publications
such as Chambers & Partners, IFLR 1000,
Acquisition International and Corporate
International Magazines.

"I am surprised and deeply humbled by the honour;
I just thank God for his favour," Mr Kimathi told
the Daily Graphic when reached for comments.

Part of a letter addressed to Mr Kuenyehia Sr.
read; "Your nomination is in recognition of your
record of professional accomplishments, your
commitment to society and your potential to
contribute to shaping the future of the world
through your inspiring leadership."

Mr Bright Simons is the President of the Mpedigree
Network in Ghana and a researcher at IMANI Center
for Policy and Education, an award-winning policy
analysis centre.

Mr Frank Swaniker is the co-Founder of the African
Leadership Academy in South Africa and co-founder
of the prestigious Africa Leadership Network.

Source - Daily Graphic


---