Art & Culture/Ent
[ 2012-01-09 ]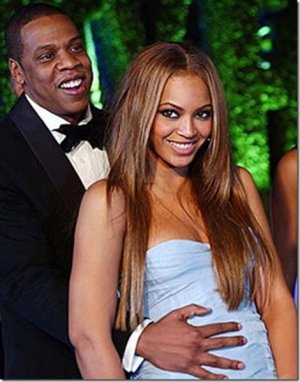 Beyoncé and Jay-Z have welcomed their first child - a baby girl, it has been reported.
Jay-Z's wife Beyonce gives birth
The music power couple have named their daughter
Blue Ivy Carter, according to eonline. com.

The 30-year-old singer gave birth to her daughter
by caesarean section at Lenox Hill hospital in New
York last night and the website reports 'multiple
sources' have confirmed the news. Celebrities have
already started tweeting their congratulations to
the couple with Russell Simmons and Rihanna were
among the first.

Russell posted: 'Congrats to my good friends
Beyonce and Jay-Z. '

Rihanna posted: 'Welcome to the world princess
Carter! Love Aunty Rih. 'According to the New York
Daily News, Beyoncé checked into the Upper East
Side hospital under the name Ingrid Jackson.

Beyoncé, who was spotted out with her mother on
Thursday night, is said to have booked out the
entire fourth floor spending $1. 3million it has
been claimed.

While a spokesperson for the power couple was not
available for comment security is said to have
been tightened at the hospital.

Hospital workers are being asked to turn in their
mobile phones and security cameras have been
covered, according to the news site. Baby rumours
reached fever pitch on December 30 with reports
that Beyoncé had given welcomed a daughter called
Tiana May Carter.

It came after reports suggested that staff at St
Luke's Roosevelt Hospital - a private facility in
New York - had been told to prepare for a VIP
arrival.

But Beyoncé's sister Solange rebutted the rumours
by telling fans that the singer had spent New
Year's Eve at her house party in Brooklyn.

The 25-year-old confirmed Beyonce was very much
still pregnant and tweeted: 'Shout out to my
sister for being THE cutest pregnant woman ever!
'The former Destiny's Child singer was also seen
out earlier on New Year's Eve with her husband
Jay-Z.

The pair dined at the Buttermilk Channel
restaurant in Brooklyn, New York.

On Thursday, Beyoncé emerged in public for the
first time since being last spotted on December
21.

The 30-year-old was seen stroking her tummy as she
was escorted out of a New York office building by
a body guard.

The singer was also accompanied by her mother
Tina.

Beyoncé announced her pregnancy at the 2011 MTV
Video Music Awards back in August. She arrived on
the red carpet cradling her bump.

The singer also showed off her growing tummy after
her onstage performance at the same ceremony -
unbuttoning her sequined jacket and rubbing her
tummy.

Back in October the former Destiny's Child faced
internet rumours that she was faking her pregnancy
after an interview she did for Australian TV was
posted online.

Critics claimed that when the Texan sat down her
bump disappeared.

But Beyonce's rep quickly batted down those
rumours saying they were 'foolish'.
The baby will be the first child for the Single
Ladies pop star and her husband Jay-Z and the
second grandchild for her parents Tina and Mathew
Knowles.

Beyonce's younger sister Solange has a
seven-year-old son Daniel Smith JR.

The addition to the Knowles clan will be some
welcome good news just weeks after her parents'
divorce became final.

Tina and Mathew had been married for 31 years.

Yahoo reports

According to reports, Beyonce, United States'
celebrated singer and wife of US rapper, Jay Z,
has been delivered of a baby girl.

Reports confirm that the first arrival of the
celebrity couple came late on Saturday January 7
at the New York's Lenox Hill Hospital. The father
of the new arrival reportedly paid the hospital
about $1. 3million to have her wife, Beyonce, give
birth to their first child alone on the fourth
floor at the hospital and evict every other
patients on that floor.

The child has been named Ivy Blue Carter. Rihanna
broke the news when she tweeted, "Welcome to the
world princess Carter! Love Aunty Rih."
Source - Daily Mail


---